Transportation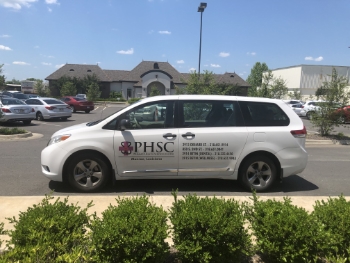 Primary Health Services Center offers patient transportation in Ouachita, Morehouse and Lincoln Parishes to those needing a ride to and from facilities for healthcare services. Transportation must be scheduled at least one day in advance.
To schedule a ride, please call the specific location:
Desiard Street Clinic - 318.651.9914
Behavioral Health Clinic - 318.325.7740
Dental Clinic - 318.323.4450
Pediatric & Women's Health Clinic - 318.651.9945
S.D. Hill Clinic - 318.651.0041
School-Based Health Center - 318.654.8760
West Monroe Family Health Center - 318.737-7616
Grambling Family Health Center - 318.596.1700
Mobile Health - 318.503.5020
Managed Care
Transportation to Primary Health Services Center is available Monday-Friday, 8:00am - 6:00pm. Transportation MUST be scheduled two (2) days in advance.
You may secure transportation through your Health Plans as provided below. (Eligibility for all transportation requires: photo identification, medicaid ID #, pick-up and drop-off address).
| Plan | Transportation Carrier | Telephone No. |
| --- | --- | --- |
| Healthy Blue | Southeast Trans | 1-866-430-1101 |
| Amerihealth Caritas | Logisticare / Where's My Ride? | 1-888-913-0364 |
| Louisiana Healthcare Connections | Logisticare | 1-855-369-3723 |